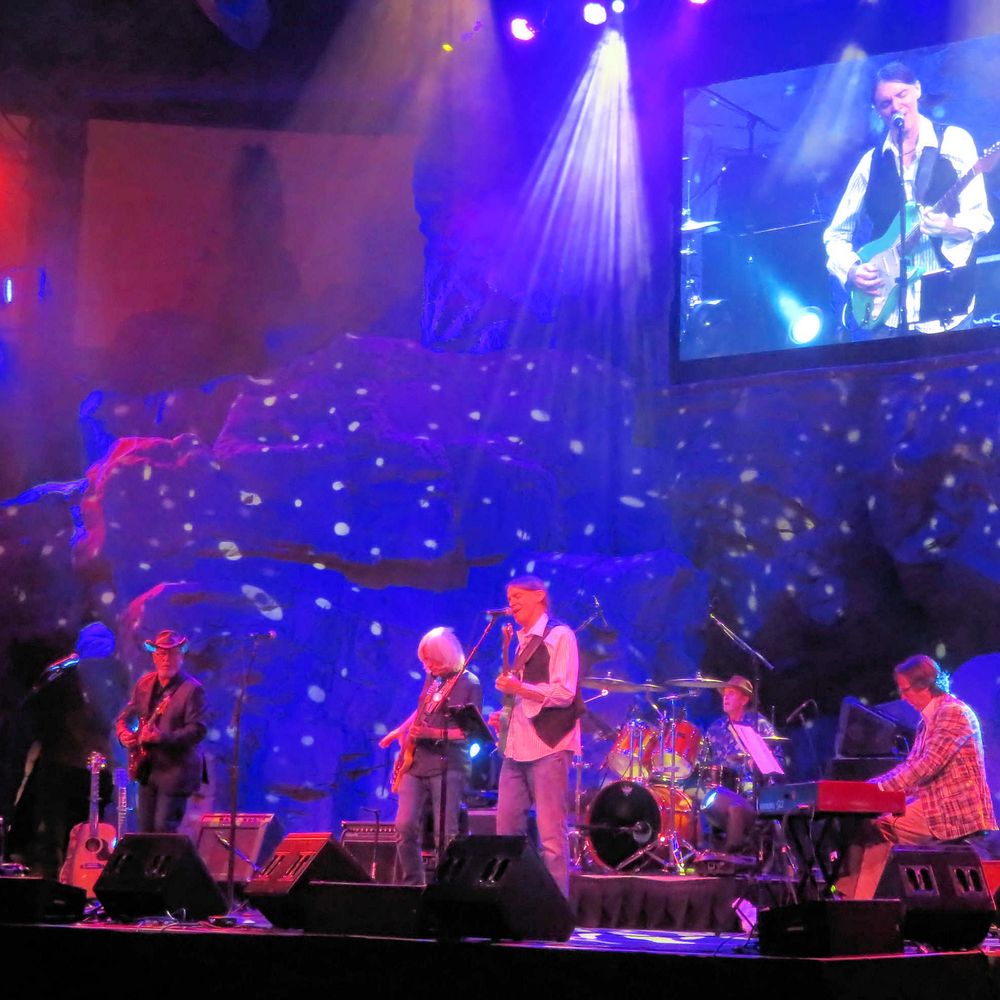 Meet the Neybas
"Partying, dancing, and rock n roll.  That's precisely what the Neybas provide." - MTV Online
"You'll fall in love with this band … bring dancing shoes." - Hygienic Art Gallery
"Seriously folks, this is one of the best bands you will EVER see in a club...or anywhere else for that matter." - Facebook review
"Love your neyba, pass it on." - Neybas
Neybas (pronounced "nay-bahz"), are a Trad Rock Jam band from Connecticut.  Their music is organic, energetic, and danceable, with good-vibes and echos of the late 60s and early 70s.
A cult favorite in the northeast for decades, the Neybas have won multiple readers' polls including "Best Original Music," and "Best Live Performance," among others. After an extended hiatus, the band's fourth album, Flow was released in the fall of 2019, and received rave reviews from new and old fans alike. 
Sunshine Hotel, their fifth album released in June 2022, has also received rave reviews and is receiving enough airplay across the country that it recently debuted on the Relix/Jambands.com Radio Chart and the AMA Americana Radio Chart!  Music reviewers describe the album as "amazing "… "organically-crafted and totally rockin'"… "an astounding stylistic variety"… "they certainly know how to get a party started and keep it going."
Past History
The Neybas formed in the late 1980s when a group of friends at the University of Connecticut began jamming together at parties and college events where they garnered a rambunctious, fun-loving following of loyal fans.
By the early 1990s, the Neybas were regulars on the Connecticut club scene, playing a robust mix of "deep track" 60's and 70's rock and a strong stable of hooky original music. This was a magic combination that, along with regular appearances at legendary area clubs from Boston to Hartford to Manhattan, and annual "best of" wins in local readers' polls helped bolster the group's fanbase.  They had several regional "hits" from their first three albums, including "Get Up (Do Your Laundry)," and "Waiting for Mary Jane."
Over the years, the Neybas have played live with the Georgia Satellites, Joan Osborne, NRBQ, Great White, Felix Cavaliere of The Rascals, Ratt, Everything, Poison, Universal Honey, Todd Snyder, and Rick Derringer, to name a few.
After a hiatus of a few years, the Neybas are back and rocking again and creating music that connects with listeners. Featuring original members Kevin "English" Bornstein (bass/vocals), Nicholas "Toad" Eckert (guitar/vocals), Russ "Skull" Waesche (guitar/vocals), and long-time drummer Emmet Hale, they added keyboardist and hometown "neybahood" friend Greg Marshall in 2019 to complete the outfit. 
"Neybas? Does that stand for New England Yankee Bad Ass Society?" - question from a fan.  In case you're wondering, the name "Neyba" plays off the northeast accent some use when saying "neighbor" (as in "howdy, neyba").
Neybas Included in The Essential Western New England Songbook! 
We are honored that "Call Me Your Doctor" from our latest album, Flow, has been voted by a panel of music industry judges to be included in the inaugural version of The Essential Western New England Songbook.  https://newmusicalliance.org/songbook/ 
The Songbook is a "compilation of many of the best songs ever written & recorded by artists who've lived in Western New England & whose careers have a significant connection to the area." 
Many thanks to the New Music Alliance!